SDX22 contains Phillips Xcelite Catalog No. XI00, XI01, XI02, XI03, SX102
XST3 contains Super-tru tip Phillips Xcelite Catalog No. XST100, XST101, XST102
XST5 contains Super-tru Phillips Xcelite Catalog No. XST100, XST101, XST102, XST1O1O and XST1020

SD3V contains pocket clip screwdrivers R181 and R3322 for slotted screws and P12S for Phillips head screws

SRX33 contains blades for slotted screws Xcelite Catalog No. R184, R3166, R144, R5166 and Phillips Xcelite Catalog No. X101 and X102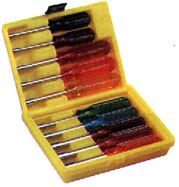 Nutdriver kit

"Keep and Carry "case

Contains assortment of nutdrivers listed in chart

Sturdy yellow plastic case for inch sizes, and red case for metric sizes, keeps nutdrivers orderly on work bench and carries them on service calls

99SM & 99SMX Roll kit and case

Versatile 23-piece set of quality tools

Provides a variety of quick change tools and tools combinations to speed up assembly and service work

Available in a durable, roll-up plastic coated canvas case, or a hard plastic case, for easy selection and storage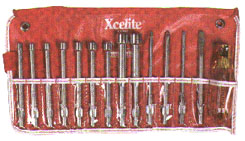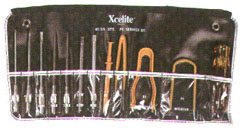 99PR Roll Kit

Multi-purpose, 14-piece nutdriver and screwdriver set
99SPC Personal computer repair kit

Ideal for repairs on PC's

Contain 12 anti-static chip tools, protects chips for ESD damage

Tools fit securely in a convenient roll-up pouch
Xcelite Diagonal Cutting Pliers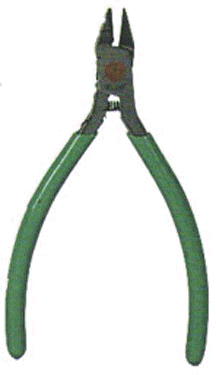 Copaloy Pliers Features

Lightweight, miniature plier line. Includes versatile selection of diagonal, angular, tip and end cutters plus wiring and assembly tools.

Choice of oval, tapered, relieved and angled head designs for general or confined area cutting.

Full flush or semi-flush cutting edges machine ground and electronically hardened for extended life in cutting either hard or soft wires.

Needle nose styles include long, short, curved, flat and round to handle most forming, looping, twisting, insertion and pickup jobs.

Copaloy joint maintains perfect cutting edge and tip alignment to maximize operational consistency and tool life.

Handle coil springs, standard on all Copaloy pliers, allow faster cutting action with reduced user fatigue.

Forged from high quality alloy steel for maximum strength and durability.

Precision ground to close tolerances, individually finished and tested to ensure exact fit of jaws.

Polished heads with gun metal handles.

Made in U.S.A.
Accu-Lite Handles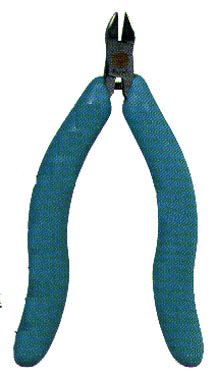 Lightweight construction Extended handle length allows even application of force from all four fingers. Exclusive, smooth, soft foam cushion grips are free of abrupt edges and finger indentations. Grip material is non-slip and compressible to allow positive gripping and to absorb mechanical shock. Handle contours adaptable for either right or left-hand use.
Pliers and Cutter with red cushion grip handles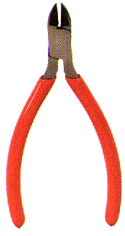 The exceptional strength and performance of Xcelite pliers and cutters are the result of forged alloy steel construction, precision machining, and scientific proportioning

Handles designed to fit the hand comfortably and to provide maximum leverage

Cleanly machined and perfectly aligned jaws grip tightly and surely while easy cutting is assured by hand-honed, mated cutting edges

For extra working comfort all models have permanent, red plastic-coated "Cushion-Grip" handles except Combination Slip Joint pliers

These high quality pliers and cutters are featured in Xcelite Attaché Tool Cases
NOTE: When using cutting pliers always wear safety glasses to protect eyes from wire clippings